| | | | |
| --- | --- | --- | --- |
| จะมีอะไรใหม่ในGENESIS64 SCADA 10.96 | | | |
Written by Administrator
Monday, 11 February 2019 18:17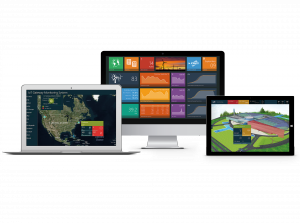 GENESIS64 SCADA 10.96 จะประกอบด้วยสิ่งใหม่ๆดังต่อไปนี้
Back-end Services
Hyper Historian Archiver – enables storage to large Data Lake repositories.
Asset AnalytiX® – allows for Hyper Historian tags to be configured directly from within AssetWorX inside the Workbench.
Security OAuth 2.0 – provides integration with the industry-standard protocol for authorization with focus on web/desktop applications, mobile phones and other devices.
Integrated Metadata – associates metadata for use throughout the ICONICS platform.
Information Broker – uses a service-oriented architecture to exchange information between systems in a secure and scalable way, enabling enterprise application integration of cloud services and applications.
MQTT Broker – facilitates MQTT messaging between hosted containers, as well as to external sensors and devices.
BACnet Connectivity – pursuing BACnet Protocol Revision 2016 certification.
Front-end Visualization
GraphWorX™64: Isometric Views – provides new integration with parallel projection grids defined by width and two angles (rather than standard width/height rectangular grids.
New Voice-based Interface – integrates with popular voice assistant technologies, including those from Amazon, Google, and Microsoft. Through ICONICS' Workbench, users will be able to create "skills" that work through these vendors' cloud services and voice interactivity technologies (e.g. Amazon Web Services (AWS) for Alexa, LUIS.AI for Microsoft Skype/Teams/Cortana, and Google Actions for Google Home/Assistant).
MobileHMI: Wearables, Beacons, 3D – provides UI/display compatibility and geolocation features for additional devices including smart watches.
สิ่งที่น่าสนใจ
PR Temp Transmitter 5331A  2-Wire, RTD, TC, Ohm, or mV input
Extremely high measurement accuracy
1.5 kVAC galvanic isolation, Programmable sensor error value
**สงวนลิขสิทธิ์ทั้งหมด โดย EDA International LTD.
สงวนลิขสิทธิ์ทั้งหมด ทุกข้อความ รูปภาพ งานกราฟฟิค และภาพเคลื่อนไหว ที่ปรากฎอยู่บนหน้าเว็บไซต์ อยู่ภายใต้การสงวนลิขสิทธิ์และได้รับการคุ้มครองตามกฎหมาย ไม่อนุญาต ให้ทำซ้ำ คัดลอก ดัดแปลง ส่วนหนึ่งส่วนใดหรือทั้งหมด โดยมิได้รับอนุญาตเป็นลายลักษณ์อักษรจากบริษัทฯ